Chicken & Steak
CHICKEN
Grilled Marinated Chicken – Boneless chicken breast marinated in Mort's special sauce; served with a garnish of cole slaw and your choice of a side order – $16.49
Chicken Beauregard – Mort's marinated chicken breast covered with sauteed shrimp, mushrooms, crawfish and scallions topped with melted Monterey Jack and parmesan cheese; served with your choice of a side order – $19.49
Chicken Tenders – Strips of tender chicken breast lightly breaded, deep-fried and served with honey mustard and your choice of a side order – $15.99
Chicken Dinners garnished with coleslaw & served with your choice of a side.
Garden salad available for 4.75 with entrees above. Extra slaw $1
STEAKS & CHOPS
All steaks are served with a garden salad and your choice of a side order.
Chopped Sirloin – 10oz. of Mortimer's chopped sirloin wrapped in bacon & topped with sauteed mushrooms and onions – $18.49
Filet – A tender 8oz. tenderloin charbroiled to your specifications – $36.99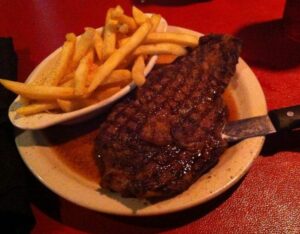 Ribeye – A large 14oz. cut of choice Ribeye steak – $35.99
Pork Chop – 14oz bone in Pork Chop cooked to your specifications – $26.99
Daily Lunch Specials
Monday September 26th

Cranberry BBQ Chicken
Beef & Mushroom Puff
Grilled Mahi Mahi
Potato Soup
Field Peas
Tuesday September 27th

Fried Chicken
Salisbury Steak
Broiled Tilapia
Chicken & rice soup
Purple Hull Peas
Wednesday September 28th

Pot Roast
Bacon Wrapped Chicken Breast
Cajun Catfish
Evalina's choice of soup
-Usually chicken & rice OR chicken vegetable, but we never know!
Thursday September 29th
Chicken and Dumplings
Meatloaf
Grilled Salmon
Taco Soup
Lima Beans
Friday September 30th
Chicken & Dressing
Country Fried Steak
Salmon Croquettees
Vegetable Beef Soup
Baked Sweet Potatoes