Big Star
Big Star is an American rock band formed in Memphis, Tennessee in 1971 by Chris Bell (late brother of Mortimer's owner Sara Stewart), Alex Chilton, Jody Stephens and Andy Hummel.
The group broke up in 1974, but reorganized with a new line-up nearly 20 years later. In its first era, the band's musical style drew on the work of British Invasion groups including The Beatles and The Kinks, as well as The Byrds, The Beach Boys, and other U.S. acts. To the resulting power pop, Big Star added dark, nihilistic themes, and produced a style that foreshadowed the alternative rock of the 1980s and 1990s.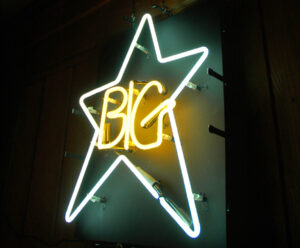 Before it broke up, Big Star created a "seminal body of work that never stopped inspiring succeeding generations" in the words of Rolling Stone,[1] earning recognition decades later, according to Allmusic, as the "quintessential American power pop band" and "one of the most mythic and influential cult acts in all of rock & roll". The "Big Star Wall" inside Mortimer's was put together by Stewart and John Fry, founder of Ardent Studios where the band recorded all three of their albums. Fry also engineered the first two Big Star albums.
CHECK OUT THE DOCUMENTARY:
'BIG STAR: NOTHING CAN HURT ME'